GSL's Update
Top Awards for Daniel and Karl
Daniel Wallage and Karl Ward of Jupiter Cub Pack were both presented with their Chief Scout's Silver Awards by Nigel Vallette the District Commissioner for Havant Scouts.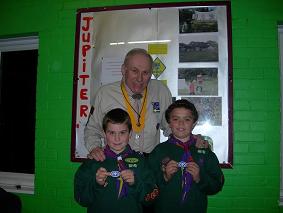 Just a few days later, Nigel was back again to present the same award to James Hooker and Reece Chapman of Saturn Cubs.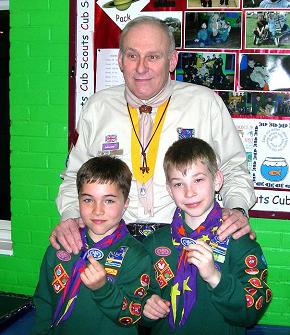 On each occassion, Nigel praised the Cubs on their achievement and thanked the Leaders and Parents for their support and help.
These bring the total of top awards presented in 2007 to 23, a fantastic achievement. See our Roll of Honour on the website for details.
Alan & Rob to meet the Queen
Last month we reported on Alan Oakes and Robert Venus receiving their Queen Scout's Awards and that they will be attending the St George's Day Service at Windsor Castle.We have just found out that the parade will be inspected by Her Majesty the Queen - what an honour for Alan & Robert!
100 Club Results
The winners for the April draw of our 100 Club are Avril Keyes, Jill Edmeades and Dennis Doney. Your cheques are already in the post!
Beavers and Cubs meet Mayor
16 Beavers and Cubs from Hayling joined others from Havant at the Civic Offices for a special meeting with the Mayor of Havant. All those attending were holders of the Chief Scout's Bronze or Silver Awards and were presented with a special certificate to recognise their achievements.
The afternoon ended with refreshements for the Beavers, Cubs and their parents and friends.
Indian Supper another Great Success
Many thanks to those of you who joined in with our Indian Supper evening recently. Fifty Five people sampled and really enjoyed the food prepared by the Desai family.
We are very grateful to the Desai family for giving up their time to prepare and cook the food, to Clive Allgood who organised a quiz, to Explorer Scouts Shona, Kathryn, Zack and Joe for their help and to Ciara Jamieson-Good for organising the event.
The evening raised £350 profit towards our centenary celebrations.
£250 received from ACE
A BIG thank you to the Association for Charitable Endeavours (ACE) who gave us a donation of £250 from the 2006 Paris to Hayling Bike Ride. This is in addition to sponsoring the Explorer Flag reported last month.
We really do appreciate this continued support and endorsement of our aims and goals for the young people of Hayling Island.