GSL's Update
Queen Scout Awards
Many congratulations to Alan Oakes and Robert Venus of our Explorer Unit on being presented with their Queen Scout Awards, the top award in Scouting.
To complete the awards Alan and Robert, both 18, gained competancy in a new skill, undertook a 9 month Community Service project, attended a residential training course and completed a 5 day expedition in wild country.
The awards were presented by Dick Whittington the County Commissioner for Hampshire Scouting who praised them both for their outstanding achievement. The presentation evening was attended by the Explorer Unit, the families of Alan and Robert and the leaders who had helped them throughout their time in Scouting.
Alan and Robert gave a short presentation on their awards and also thanked those who had helped and supported them.
The evening ended with refreshments prepared and served by the Group Development Team.
The photograph below shows Alan, Dick and Robert with the awards.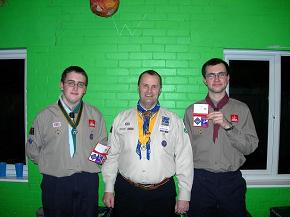 These awards are the first on Hayling for over 15 years and both Alan and Robert will now be invited to attend the St George's Day Parade and Service which is held annually at Windsor. The parade will be inspected by a member of the Royal Family.
100 Club Results
The winners for our latest draw were Sam Mill, Linda Hunter and Jean Yates who each win £25.
Chief Scout Awards for Redwood Beavers
Congratulations to James Lambert, Megan Hick and Thomas Spry who all received the Chief Scout Bronze Awards, the highest in the Beaver section from Nigel Valette the District Commissioner for Havant. To complete this award, James, Megan and Thomas completed challenge badges covering Craft, Community and Outdoors and also a personal project.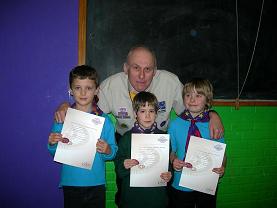 Explorer Flag presented by ACE.
Each section now has their own flag to use at ceremonies, on parades and for special events. The latest flag for the collection was one for the Explorer Scouts which was kindly sponsored by the Association for Charitable Endeavours (ACE), most famous for the Paris to Hayling cycle ride.
Paul Fisher of ACE made formal presentation to Simon Freston, one of the Explorers, and in return Paul was presented with one of our Centenary Neckerchiefs by Jill Saggers as a thank you for his and ACE's continued support to us over many years.