GSL's Update
100 Club Update
We still have a few tickets left for our 100 Club and we have delayed the first draw of the new period until December.
There is still time to join, either online by selecting the 100 Club logo, by using a form from the HQ or contacting any leader or Ian Hawke. Remember you will have 41 chances to win a prize between £25 and £100.
It may be November but the Expeditions continue
4 members of Lion Troop and 5 Explorers all completed a 2 day expedition in early November. Alistair Harris, Sam Whiteland-Smith, Liam Holden and Jake Whistlecraft from Lion Troop organised a 2 day hike around the New Forest carrying all of their equipment for the Expedition Challenge Award. A week later Shona Hunter, James Hawley, Tom Clarke, Dan Bailey and Dan Whiteland-Smith completed their Chief Scout Platinum and Duke of Edninburgh Bronze Award expedition, also around the New Forest. Well done to all.
New Rear Doors for the HQ
The latest phase of our Safety & Security project completed recently with the installation of new doors to the rear of the HQ. These doors meet the current regulations for Fire and Exit of buildings.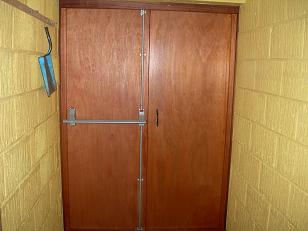 Another Great Fireworks Evening
Over 250 people joined us for our Annual Fireworks display. The cold but dry evening was perfect for the display organised by Pete Goddard and also made the food and hot drinks prepared by some of our Leaders and Parents, very satisfying.
Remembrance Day Service & Parade
About 40 Scouts, Explorers & Leaders joined other Island organisations for this years parade and service. The flag was carried by Jake Whistlecraft and the wreath layed by Robert Durrell. It was so good to hear a number of compliments about the smartness and attitude of the Scouts. Well Done!
Book Sale
Just a reminder that our next Book Sale takes place on Saturday 2nd December at the URC hall in Mengham. As always there are thousands of books covering fiction and many non-fiction subjects available. Doors open from 10:00 to 14:00.
Xmas Post Service Underway
Our Xmas Post Stamps are now available from locations around Hayling. A letter is being sent home to all Parents with all of the details and also the arrangements for delivery, for which as always we need your help.
The profits this year will cover much of the cost of the Centenary Neckerchiefs (see next page for 2007) which will be provided to every member of the Group.
For those with access to the Internet you can see the details of our service by selecting the "stamp" from the menu on our website at www.haylingscouts.org.uk
This year we will only be doing one delivery from Sunday 17th December. This is due to other Scouting commitments for the Group and also the fact that Christmas Day is on a Monday and it is not realistic to deliver on Christmas Eve.