GSL's Update
Welcome Back
I hope you all had a great summer. I am sorry this edition of the Woggle is later than planned, but it is all down to the fault of the Editor (me!!).
100 Club Draw
Congratulations to Ann Morgan, Minnie Dean, Keith Yates, Ina Smith, M Spencer and Wendy Saunders who each won £25 in the August and September draws.
It is renewal time for our 100 club so if you have not received an email or letter or you would like to join us then please contact your leader or myself.
New Edition to the Simpson family.
Many Congratulations to Lorna & Jim (Lion Troop) on the birth of their son Ewen and a brother to Cameron. His name is already on the Beaver waiting list!!!
Amazing Summer Camps
I had the privilege of joining both Eagle and Lion troops for 3 days each at their summer camps in Devon. Apart from some traditional scouting activities such as cooking over wood fires, pioneering projects, hiking, they also had a go at real Rock Climbing, Kayaking, visiting "Diggerland" and driving tractors and diggers, archery and shooting. Well done to both troops.
Our Explorer unit spent a week in the Lake District with a week full of activity including some serious climbing and abseiling, gorge walking, challenge hikes and water activities.
During the 3 week period in July / August over 50 members of the group went to camp.
Planning for 2007 Summer Camps
Scouting is 100 years old next year both troops & the explorers are joining in with the Hampshire Scout Jamboree in the New Forest. More details soon.
Cubs Celebrate 90th Birthday in Camp
Cub Scouting is 90 years old this year and both Packs celebrated this with a combined Camp. Over 30 Cubs took part in the weekend on Hayling with a range of activities including Archery, building Go Karts, and an Assault Course. Everyone returned home on Sunday very happy albeit very tired.
The highlight of the weekend was the special Birthday cake, made for us by Sharron and Iced by Claire one of our leaders which was brought out during the camp fire. After singing happy birthday, the cake was cut by Scott, George & Daniel all of whom will soon receive their Chief Scouts Silver Awards, the top in the Cub section.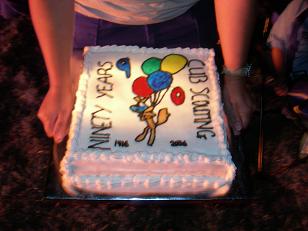 Otter's 9th best Patrol in Hampshire
Otter Patrol of Lion Troop represented Havant at the County Camping Competition and proved themselves to be the 9th best Scout Patrol in Hampshire.
During the weekend, the patrol were judged on their camping skills, including cooking, hygiene and their programme along with their teamwork and the leadership of Alistair the Patrol Leader. They also competed in a special project to build a large scale catapult from poles and ropes. We are all very proud of the achievements of Josh, Peter, Jake, Pete, Matthew & Alistair..