Group joins in with the Lions Walk
Once again, members of the group joined in with the Round Langstone walk. Beavers, Cubs, Leaders and Parents braved very wet and windy conditions to walk up the Billy Trail to the Hayling Halt and back again, whilst the Scouts, Explorers and Leaders completed the full 15 miles with 2 traditional Scout Trek Carts in tow. Well done to those who took part in this challenge especially considering the conditions.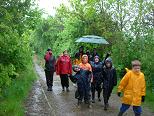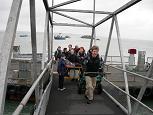 The photo's show some of the Cubs & Beavers "walking in the rain" and the Scouts arriving back on Hayling via the Ferry. Thank you to those who sponsored our brave strollers in this event. I am not yet sure how much money we raised from the walk.
Can you Help
We are still looking for a Minute Secretary for our Executive Committee. We hold 6 meetings a year plus our Annual Awards evening and no previous experience is required.
Cub's 90 Challenge
This year the Cub Scout section is 90 years old and to celebrate this the Cubs have taken on a series of challenges, featuring the number 90. For example they have been working with Compass points, tracking, word searches, knots all with a theme on 90!!!.
Book Sale raises over £700
Our latest book sale made over £700 profit for the group, with over 300 people looking and buying books from the 5000 on offer. We are very grateful to Mark and his full team for organising, collecting, sorting the books and for helping on the day.
Group Camp Information
Only a few days left before we take siege of Lyons Copse. You should have all received an information pack and health form, either by email or by snail-mail!. Please can you ensure these and any outstanding money are returned in the next few days.
Just a reminder that this year in addition to our normal request for cakes, we also require each person attending to arrive with 10 small sponges, available from the 50p shops for just 60p. These are an integral part of our programme!!!
Thank You Carolyn and Lorraine
This year will see changes to our Executive Committee with Carolyn Wager and Lorraine Haskell standing down after many years. Carolyn first joined our committee in 1994 and has been very active in running our fund raising events, and Lorraine has been our secretary for the past 6 years. We very much appreciate all you have done for us and also very grateful that you have agreed to continue to help us.with our book sales.
Welcome Graham
Welcome to Graham Chapman who has volunteered to join our Executive team.
Diary of Events
June
14th Awards & Presentations
23rd to 25th Group Camp
July
1st Trek Cart Weekend
8th HIBC BBQ
29th Eagles Summer Camp
August
6th Lion Troop Summer Camp
13th Nexus Unit Summer Camp