Insects & Reptiles Join Cubs
An unusual meeting of Jupiter Cubs saw some new members. The Cubs and their Leaders were joined by some Giant Spiny Stick Insects, East African Land Snails, a Royal Python snake and 5 Tarantula Spiders of which 3 were considered nice by the Cubs, 1 was very hungry and 1 was very pretty but best viewed behind the glass of the case!!.
Our thanks to the Rigden family for bringing along the new members who were by all accounts well behaved and did not escape!!
Next Book Sale
Our next Book Sale will take place on Saturday 3rd June at the URC Church Hall in Mengham. As always we have many thousands of books for sale both fiction and non-fiction and a good selection of Children's books.
The sale opens at 10:00 with entry costing 20p for Adults and free for Children.
Lost Property
We still have a number of coats in the HQ that have been left over the past few months. This is your last chance to claim them as we will be donating them to a charity shop during half term.
Well done Eagles
8 Members of Eagle Scout Troop recently completed a 2 day hike in the New Forest. George, Toby, Michael, Jamie, Callum, Charlie, Robert and Barnabus had to carry all of the equipment with them, camping out overnight!!
Can You Help Us ?
We are looking for a new member on our Executive Committee to take on the role of Minutes Secretary. The role involves attending 6 committee meetings each year and taking (and publishing) the minutes. Each meeting lasts for approximately 2 hours and we estimate that a further 1 to 2 hours per meeting is required for producing the minutes and action items.
To find our more please contact Ian Hawke or let your leader know and we will contact you!.
New Fence Installed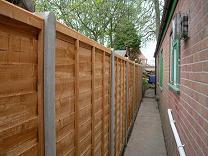 Thanks to Brett & Claire Ashley who spent the weekend erecting our new Fence to the Eastern boundary of the HQ. This is a major part of our Safety & Security project.
Group Camp Information
The team planning our "Siege of Lyons Copse" event in June are finalising plans and we will be sending out full details and kit lists towards the end of May.
We will be asking you for Cakes and also for a empty (and cleaned) washing up bottle as well.
World Jamboree Update
In the past 4 weeks, Alistair Harris and Jorden Reed have started their training and fund raising for their trip to the World Scout Jamboree in 2007.
Their first training day took place when in their contingents they took part in a number of activities and challenges to build teamwork within their unit contingents.
At the beginning of May, Alistair and Jorden spent a weekend "bag packing" in Morrisons Portsmouth with the other members Havant District selected for the Jamboree. They each rasied £280 towards their target - a great start.
Alistair & Jorden will be giving an update at our Awards evening in June.
Diary of Events
May
8th May Leaders Meeting
21st Lions Club Sponsored Walk
24th Exec Meeting
June
3rd Book Sale URC Church Hall
5th Leaders Meeting HQ
9th District Camping Completition
14th Awards & Presentations
23rd to 25th Group Camp