GSL's Update
100 Club Draw
We now know the lucky winners of our April 100 draw. Congratulations to Lesley Rowson, Tom Deans and Mary Creese who each win £25 and to Lorraine Haskell on winning the quarterly draw of £50. Your cheques will be in the post shortly.
Top Award for Cubs
Six cub scouts from Saturn pack have completed their top award of the Cub section, The Chief Scouts Award (Silver). To gain this award the Cubs had to complete various challenges and projects, including the Outdoor Challenge, for camping skills, The Caring challenge, including a project over 2 months based on caring for others, The Fitness challenge to show a steady improvement over 6 weeks and a personal challenge – something new to learn.
The photograph below shows Thomas Perrin, Adam Saunders, Dylan Heathcote, Jack Golden, Connor Jamieson-Goode and Scott Hickman with Nigel Valette the District Commissioner for Havant Scouts who presented the awards and Mandy Hawke the Cub Scout Leader for Saturn Pack in the background.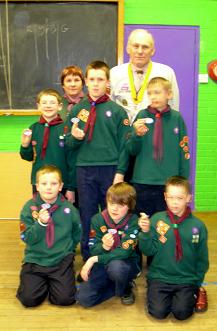 St George's Day Service
Thank you to those of you who spotted that I failed to put a date in the letter that included St George's Day details recently. Also since that letter, the times of the service have changed.
Date: Sunday 23rd April 2006
Venue: St Michael & All Angels Church, Dunsbury Way, Havant
Time of Service: 15:45 (Changed from 15:00)
Please see the separate letter (or email attachment) with details of coach times.
Help us to Help Others
Last months edition of "The Woggle" included items on how Saturn Pack raised money for the RNLI and how we are also collecting used stamps for the RNLI. More items are included in this edition.
If you have ever wondered what we can do with those plastic tops to Milk Bottles, then we have found a good use! These tops are now being collected by us for Naomi House, a Childrens Hospice. So please take your used stamps and milk bottle tops to the HQ where there are bins in the reception area. Thank You
Alistair and Jorden invited to join the World Jamboree in 2007.
It is really great news that both Alistair Harris and Jorden Reed successfully completed the assessment weekend and have been selected to be part of the 72 strong Hampshire contingent at the next World Jamboree. Over 130 Scouts and Explorers spent the weekend in camp being assessed on their skills, leadership, teamwork and potential "ambassadorship" so it is good news for Hayling that both of our nominations were successful.
Alistair and Jorden will join 40000 (yes 40 Thousand) Scouts from 216 Countries for the Jamboree and are now planning how they will raise over £1000, the cost of taking part in this "once in a life time" opportunity.