RNLI Certificate Presented to Saturn Pack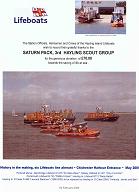 The Hayling branch of the RNLI presented this certificate to the members of Saturn Cub Pack as a thank you for the money raised at their Bring and Buy sale recently. A larger print can be found on our website whilst the original hangs proudly in the HQ.
Aspen Beavers take part in a Science Day
Beavers from Aspen colony joined with others from Havant in a science and experimentation day. The Beavers visited various bases to try out various experiments including how Airplanes fly (no not real ones!), making electrical circuits, origami, water based experiments and playing with robots. A great day was had by all (and the Leaders and parents who joined in!).
Please keep your used stamps
Don't forget we are now collecting used stamps for the RNLI. This is one of our "helping others" campaigns for this year.
Just bring them to the HQ and leave them in the box in the reception area.
Alistair & Jorden take part in World Jamboree Selection Weekend.
The next World Scout Jamboree will take place in the UK to celebrate 100 years of Scouting. Alistair Harris of Lion Troop and Jorden Reed of Nexus Explorers recently took part in a special training and assessment weekend from which the final 72 participants from Hampshire will be selected.
Alistair and Jorden had a great weekend taking part in different projects and activities with over 130 Hampshire Scouts but now have to wait to see if they are lucky enough to be invited to join the Jamboree contingent. Fingers crossed!!
Make Scouting Fashionable Again !!
At a reception hosted by the Chairman of Hampshire County Council, our County Commissioner Dick Whittington said that one of his objectives is to "Make Scouting Fashionable!
I like this phrase, not for the young people we would wish to attract but for those of us adults, whether it be Leaders or Parents or Friends.
After all fashion is never designed, it results from everyone talking about something in a positive way.
So lets all talk Scouting up for what it can offer young people and perhaps together we can make it "cool" for young people to join.
If we succeed then who knows what we will all be wearing next year!
Lions Club Walk
The Hayling Scouts will once again be taking part in the "Round Langstone" walk organised by the Hayling and Portsmouth Lions Club. The data of this walk is Sunday 21st May 2006 and we hope to see all members of the group taking part.
Sponsorship forms and more details will be published soon but please make a note of the date.
Diary of Events
March
3rd County Winter Camp
10th Lion Troop Camp
13th Leaders Meeting, Bacon Lane
29th Group Executive
April
10th Leaders Meeting, Bacon Lane
23rd St Georges Day Service
May
8th May Leaders Meeting
21st Lions Club Sponsored Walk
24th Exec Meeting
June
3rd Book Sale URC Church Hall
14th Awards & Presentations
23rd to 25th Group Activity Weekend