GSL's Update
Back in the HQ
The roof has been replaced, on time and at the expected cost. For the past week many of our sections have been meeting back in the HQ, although others had already planned to meet elsewhere or out of doors.
100 Club Draw
Congratulations to Marianne Warner, Steve Whitcombe and Richard Lucas, who each won £25 in our December 100 club draw.
Book Sale raises £730
Another tremendous effort by Mark Standing and his team resulted in over £730 being added to our Roof fund from our latest book sale. This brings the total for the two sales in 2005 to over £1400. Thanks Mark & team.
Get your "Woggle" ONLINE and help us to reduce our paper costs
An increasing number of you receive our newsletters and other information electronically. For those who have not yet subscribed then why not subscribe online via our website at www.haylingscouts.org.uk.
Help required with our Xmas Post
Please see page 2 of this edition of the "Woggle".
Great Camp for Scouts & Explorers
It was certainly the coldest day so far with the temperatures staying at zero throughout the day, but that did not stop the Scouts from Lion troop and the Explorers building shelters from natural materials and spending 3 days in camp. As part of the camp they helped to clear areas of Rhododendrum as part of a service to the camp site Warden. Well Done!!!!
Have a Good Xmas
This is our last "Woggle" of 2005 and I would like to wish everyone a very Happy Christmas, a brilliant 2006 and thank you all for your support during what has been a major year for us.
The Roof Replacement is Done!!
So, who thought I was mad when in May I stated that we had started our Raise the Roof fund with a target of £35000 and a new roof by the end of the year ? To be honest I was not sure if we would achieve it, but here we are at the beginning of December with a new roof - WOW.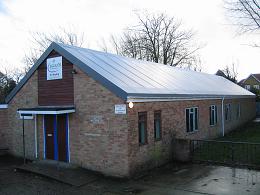 Here is a photo of the roof from the inside, nice clean and bright and a lot warmer with at least 6 inches of insulation compared to none before!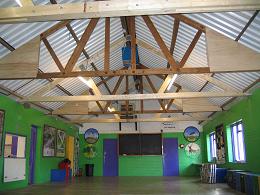 In addition to the roof, we have new guttering, a new light outside, a re-surfaced and re-painted porch and three new trusses inside. Overall we are very grateful to Roofline South Ltd for all they did and to Ivor Copeland our local "small job" friendly plumber and heating engineer for safety checking our gas supply.