Hayling Scouts "Transport for All" Fund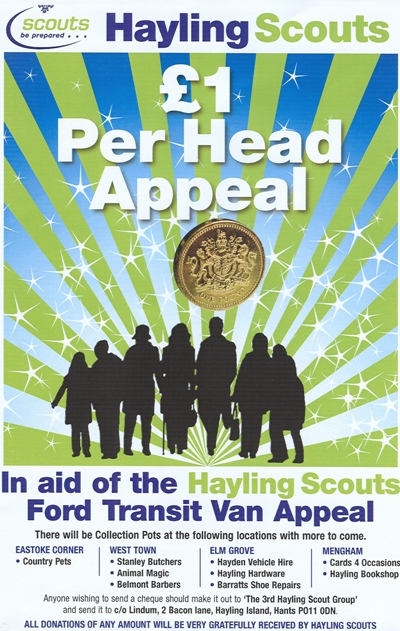 Have you considered how each Summer, each of the Scout Troop's and the Explorer Unit get to camp, or how our Cubs get their equipment to camp when there are other activities taking place at the same time?
For Example: Until 2011, we have survived because only 2 Scout Troops and the Explorer's have camped during the summer months and with the use of our own Trailer, James Pefett's tank (well a 4 * 4 with a large engine) and the hiring of vans and mini-buses we have just about survived.
However, things will have to change as we now have 4 Scout Troops, and an Explorer Unit all requiring equipment transport.
2011 will be the year of our "Transport Fund" and you may already have seen two articles in the January edition of the Hayling Trader covering our Master Plan and Transport Fund. We are very lucky and very grateful to John Clayton the editor of the Hayling Trader who has offered to help in many different ways with this fund, but of course we will still have to put in extra effort ourselves. For example the profits of our 100 Club will be added to this fund.
So what do we want to get?
1. A Van of medium height and with a medium length wheelbase
2. A Trailer
We have already identified the exact requirements and following discussions with suppliers of each we have set our target to £20,000. We have taken recommendations from contacts in the trade and will purchase a second hand van and nearly new trailer.
In the next edition of the Hayling Trader (due out in March) John Clayton will formally kick off his support to our challenge and we will keep everyone updated of progress via our newsletter (The Woggle) and of course via our web site.