What can you find on our Website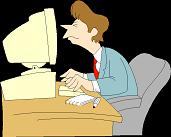 As with most web sites these days, ours also contains a great deal of information. We have tried to keep the menu and navigation system as user friendly as possible but, just in case, hopefully the following will help you find what you are looking for. Any suggestions for improvements will always be gratefully received.
Select Here for the most recent changes
Select Here for an index to site content
Menu Bars and Navigation
The site has 3 menu and navigation bars:-
The top green bar which is basically a contact us and site information menu.
The lower green menu bar, located below the 3rd Hayling banner which contains links to the most popular functions
The left hand navigation bar, for which most menu items expand into a list of options (shown by the > following the manu name) to select. Below the expandanle menu bars are a series of icon links that go directly to the relevant information. If you hold your mouse pointer over the link a message will be displayed telling you what this link shows.
The top menu bar
There are only four options available from this menu:-
Site Map (This Page)
Search Site. Select this option if you wish to search either our site or the WWW for information
Join Us which will link you to registration forms to register your name to join the Hayling Scouts
Contact Us which will allow you to send an email to us for information.
The lower menu bar
Our experience shows these are the most popular pages on our site.
Home - returns you to our home page
Section News - being used more and more by our leaders to place copies of letters sent home, programme / activity information plus some generla information for the section. Having selected this option you can then choose the section for which you want to find additional information.
What Scouts Do provides some information on what our Beavers, Cubs, Scouts, Explorers and the group get up to.
Information for Parents. Hopefully an easy to use guide of some of the key stages and important information relevant to time spent with Hayling Scout Group.
Diary of Events - Just that a diary of much of what goes on
Our Next Events - links that provide details of our forthcoming events and activities.
Useful Links - just in case you wish to go to National, County or the Distirct websites.
The Left Hand Navigation Bar
In this menu bar anything with a ">" following the words means an expandable link and selecting the header shown will display a series of options containing the information. In summary, the headers are:-
About Scouting - some general information about the Scout movement
About Hayling - general information on Hayling Scouts
Badges and Awards - links to show what badges can be gained, where the badges go on the uniform, our "Roll of Honour" for top awards and recipients of our two main annual awards.
Sponsorship - We rely on the support of many individuals, organisations and businesses in many different ways. Under this heading you will find a list of this support whether it be in time or materials or the specific cponsorship of one of our Badges.
Useful Forms - exactly that. Here you will find some forms which you may require at some point.
Special Events - probably a poor descriptive title, but we needed a place to store information that did not seem to fit anywhere else. For example pictures and stories of a major event or a summary of our 5 year plans.
Our Annual Report. This link will display our latest Annual Report. Please note that they are quite big and stored as "PDF" files.
Information Archive - from here you can access previous copies of our newsletter (The Woggle), Annual reports of years gone by and old news items.
Below the expandable headings you will find a series of pictures which link directly to the displayed information. Some of these links are constant, for example the picture of a "Woggle" which links to our latest newsletter, some change ocassionally, for example the link to our latest 5 year plan, currently "Looking Outwards", whilst others are short term for special events.