Why would I want to join Scouts?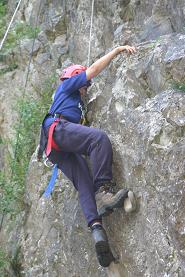 If you asked the 400 000 young people in the UK why they joined you would get lots of different answers. The reasons listed on this page have been given by some of the 200 young people involved with the 3rd Hayling Scout Group. Perhaps one or more could apply to you!
If you would like to find out more then why not look at the "What Scouts Do" section of our site or select "Join Us" to register your interest.
Comments from those aged 6 to 14 years
I joined because my friends said they had a great time
I joined because I wanted to go camping
I joined to try climbing and archery
My parents suggested I join
My parents put my name on the list when I was very young because my Dad had been a Scout.
I tried Cubs for 4 weeks and it was so good, I joined
My sister was a Brownie and so I tried Beavers
I wanted to complete my Duke of Edinburgh award and I knew that Scouts worked on this award.
We have just moved onto Hayling and I saw the Web Site and thought I would give Scouting a go.
I found out that some of my football team had just won the Scout football cup but I now know they do lots of other things as well
Scouts has taught me to be responsible for my own actions and also helped me to work as part of a team.
Comments from those aged over 14
Scouts has taught me to be responsible for my own actions and also helped me to work as part of a team.
I feel very privaledged to have been chosen to attend the World Scout Jamboree in Thailand.
Kandestag in Switzerland was awesome
In the past 3 years I have climbed, abseiled learnt archery, rifle shooting, been scuba diving, driven quad bikes, been sailing, canoeing, ice skating and thats without all the things we do each week.
I didn't join Scouts until I was 13, but it was still the best decision I ever made for myself