Subscription Review January 2012
Each year we review the cost of running the 3rd Hayling Scout Group and determine the level of subs required to support this. As a result of the last review, we have identified the need to increase subs to £90 per year from April 2012.
The subscriptions paid support five basic cost areas:-
Scouting National Membership Fee
A fee is payable each March for every member of the group. The cost for the youth membership is paid from their subscriptions with the cost for other members (Leaders, Helpers, Executive Committee being covered by our fund-raising.
The Membership fee covers the insurance premium for every member, provides for a range of services from national HQ for the Leaders and also National and County facilities.
Section Running Costs
A portion of subs paid is returned as a float to the Leaders to cover the cost of consumables and section specific activities. (e.g. cooking evenings and to subsidise visits) .
Books and Badges
The cost of progress books, section training books and the badges gained by our members
Leader Training for Specialist Skills
The cost of mandatory training such as "First Aid" and "Child Protection" and also the cost of special skills such as Archery and Rifle Shooting.
A contribution towards the HQ running Costs
A proportion of the ongoing costs for our Headquarters which includes insurance, utilities and maintenance.
All other expenditure within the group, including the remaining HQ running costs, camping equipment and other projects is covered by our fundraising.
Why the Increase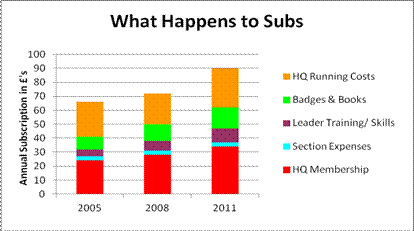 The chart above shows how the subs are distributed across the five elements. Between 2005 and 2011, you can see the significant increases in HQ membership fee and "books and badges" with the effect of reducing the contribution towards the HQ running costs.
In 2008, the HQ running costs were just over £5000 and by 2011 had risen to £7000. The proportion of these costs covered by subscription had reduced from 70% to just 50% placing a significant additional requirement on fundraising.
An increase to £90 per year on subscriptions. togther with the growth in membership will restore the contribition of subs to 70% of the HQ running costs.