Girls in Scouting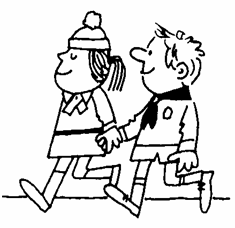 In 2007, the Scouting movement celebrated its 100th birthday and we saw significant changes to the approach to our membership.
Originally founded as the "Boy Scouts", in 1967 the name was changed to "Scouts" to reflect the introduction of girls to the older Venture Scout Section. Since that time changes to the co-educational policies within the movement, have seen the optional introduction of girls into all sections, although of course we continue to work jointly with our sister organisation the Girl Guides.
For the past 4 years any new section forming has automatically become co-educational, but in 2007 all Scout Groups opened their doors to young people of both sexes.
Within Hayling, based on our existing large membership and a strong Guide association, we have opted to operate a male only membership up to the age of 14, although our Explorer Unit (14 to 18 years) has included girls since its inception. From January 2006 we provided the opportunity for girls to join the group across all age ranges in preparation
This required close consultation with the Guide Association and an increased focus on waiting list and section management within the group. We already had a waiting list for the youngest section (Beavers) and clearly we did not want to exacerbate the problem by the introduction of girls in scouting.
We have seen a steady growth during the past 2 years as more girls join the movement and will necessitate additional sections to accommodate this growth. This will also require an increase in the number of adult leaders.